Født: 11.02.2005
Kuldet: Cabaka's F2-kuld
Farve: Hvid
Højde: 56 cm
HD: A
Øjne: OK
Opdrætter: Gitte Morell
Ejer: Kennel Cabaka & Kennel Kynoch, Ireland
Titler: INTCH, IRECH, CELTIC WINNER 08, Great Britain champion, CELTIC WINNER 09,
Europavinder 09

Udstillingsresultater
Afkom
Stamtavle
Billeder
Showgalleri

World web October 2008:
Figther is currently Top Samoyed in Ireland 2008 and cannot be beaten now with the number of shows remaining. This is despite missing quite a few shows this year. He was Top Male in 2007 but was just pipped at the post for top overall by our Veteran bitch Holly who is also the top bitch so far in 2008.

It is just over 2 years since Fighter arrived in Ireland and since then he has won 34 Green Stars, 20 RGS, 10 CACIB and BIS at the Irish Samoyed Club Breed Show in 2007 & 2008. He is also a Multi Group winner at Ch & Open Shows as well as many other Group placings so we are very proud.
EUROPA VINDER 09
GREAT BRITAIN CHAMPION
CELTIC WINNER 09
CELTIC WINNER 08
IRISH CHAMPION
INTERNATIONAL CHAMPION
SHOW CERTIFICATE OF MERIT
STUD BOOK NUMBER (ENG KC)
Belfast Ch Show 2006
51 x Green Stars (our equivalent of a CC)
27 x Reserve Green Stars
37 x BOB
14 x BOS
3 x CC (UK)
1 x RCC (UK)
4 x BIG 3
5 x BIG 4
12 x CACIB
3 x RCACIB
9 x BIG 1
8 x BIG 2
2 x BISS
1 x BIS
1 x RBIS
1 x RCAC (Amsterdam)
1 x CAC (Denmark)
1 x BD (Richmond 07, No CC's)
No "1" Samoyed Male in 2007
No "1" Samoyed Male in 2008
Annual Champion 2008 (Top Samoyed)
No "2" Samoyed Male in 2009







FORÆLDRE

BEDSTEFORÆLDRE

OLDEFORÆLDRE

dkch sch finch nordch dkkrv03
dkkrv04 nordv04 kbhv04 uuv03 euuv03 Cabaka's Yacker of McCoy

multich. Power Ranger McCoy of Karasea

ch.
Aramis

ch. Lorely Golden Light of Karasea

ch. Cabaka's Peekachew of Voyage

multich. Anatina Voyage-Voyage

ch.
Cabaka's Kandy of Kingo

Cabaka's Kandy of Kingo

ch.
Kiak's Kingo

Ch.
Whitecliff Karu Jointventure

Kiak
Anika


Ch.
Cabaka's Anais of Ice Prince


Kaissas
Ice Prince


Kaissas
Beaujolais Nouveau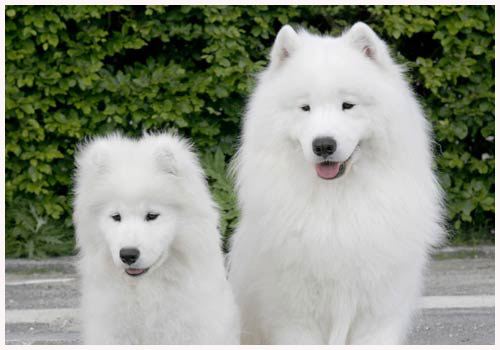 Far & søn 2005